It's been a while since I have done a nail post as I have so many nail polishes in the salon I havn't purchased any new ones. But, I have made one exception this time! I was so intrueged to see that there is something new on the market other than crackle, or croc, or them stupid little caviar manicure beads that don't last any amount of time! Finally a nice twist to a polish that will last more than a day!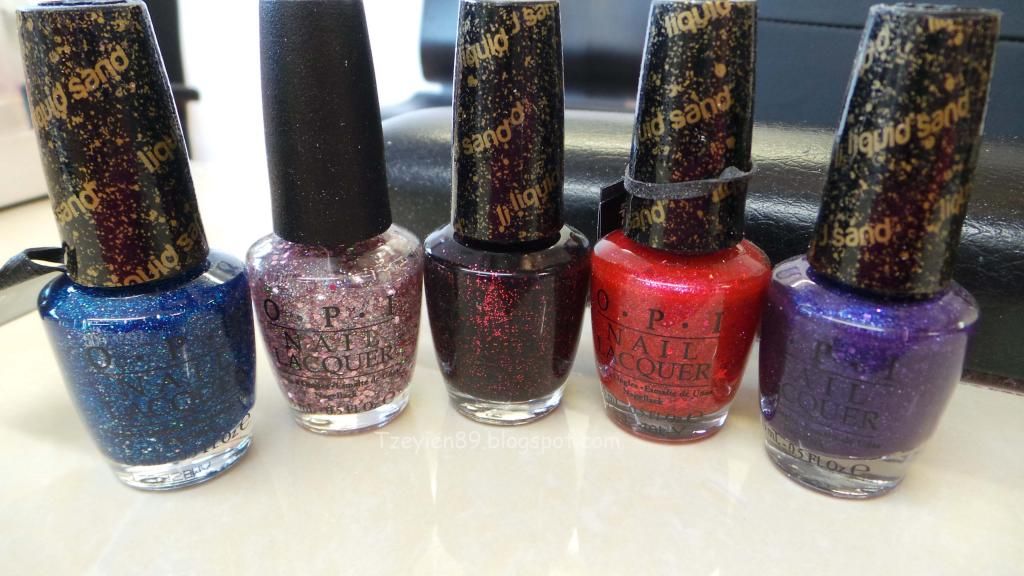 L2R : Get Your Number / Pink Yet Lavender / Stay The Night / The Impossible / Sprung
I didn't pick up the whole collection and just chose the glittery ones =) of course =)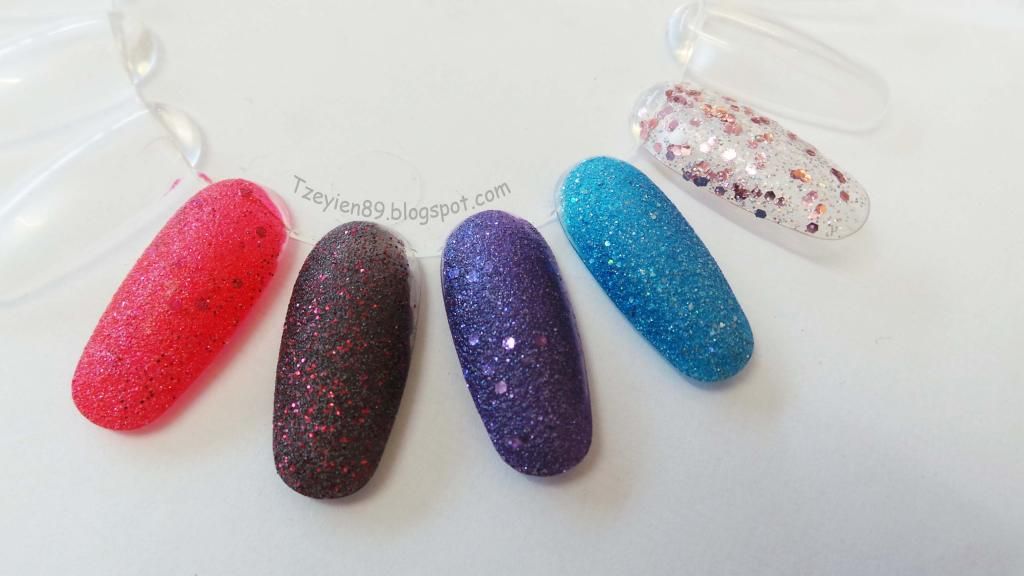 L2R
:
The Impossible - Glittery red with large specks of red glitter & stars. This colour is still a little see through with 2 coats. Its more like a pink red rather than a true red. Not my favourite of them all but the sand effect is pretty cool
Stay The Night - The most interestingly names out of the lot. Its exactly a mysterious dark night fall kind of colour. Almost black with hints of red glitter. The prettiest of them all I think
Sprung - A glittery dark purple with large purple glitter specks. Quite a deep colour with 2 coats. In some lights its more blue and in some more purple.
Get your number - A medium blue glitter blue glitter specks. A pretty colour but like the red, not the best colour payoff. Still a little see through with 2 coats. 3 would probably do but would take longer to dry.
Pink Yet Lavender - My favorite of them all. It's a rody pinkish lavender kind of glitter. This would look so pretty on top of another varnish or like a rose gold colour. Even alone. So pretty!
I do like this collection and it takes around 5 mins for it to fully dry under a dryer. When painting it looks like a normal shiny glittery polish then it dries matte and sandy. Interesting how it's made to keep like varnish in a bottle but dry in such a way. I tried scratching the surface when it was dry and it stays put. The lighter colour seem to need more coats for fuller coverage. I still wish they had more dynamic colours as red blue and purple are a little "normal".
A collection worth investing in nevertheless!
Have you got your hands on this collection? x